How is youth affected by precarious employment? Some reflections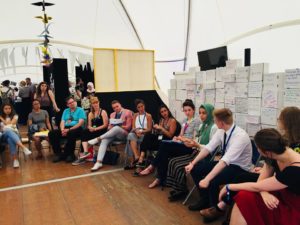 The following entry focuses on three main points: youth and precarious work (reality and root causes), what are some of the EU policy responses to the phenomenon and what are the recommendations of CESI Youth considering the realities experienced at the level of trade union work.
The background and causes
Economic globalization, skills mismatch or difficult transition from education to labour market, are among the causes for young workers to end up in precarious jobs. These causes are also behind the youth unemployment rate of 14% in the European Union (European Commission, 2019). Far more concerning are the numbers of youngsters not in employment, education or training (NEET's), whose rates have continued somewhat stable since the economic crisis. By the end of 2017 there were 2.4 million NEET's in the European Union (European Commission, 2019).
The levels of youth employment have been on the rise since the economic crisis. However, it is not enough to simply look at statistics and employment rates, since contract flexibility has also been increasing in the last years due to economic globalisation and tougher competition. The age group of the young is most prone to have atypical employment contracts, such as temporary agency work, part-time contracts or fixed-time contracts. Therefore, young workers are also less socially protected and more exposed in cases of economic shocks. While this is also due to new economic paradigms and the willingness for more flexible work arrangements by young workers, atypical work should not lead to no or reduced access to social or labour law protection.
The 2008 economic crisis lead to staggering numbers of youth unemployment and underemployment. The current crisis driven by the COVID-19 outbreak is another example illustrating the vulnerability of this group. This crisis can prove to be even more challenging, since youth employment, even though being on the rise, has not yet reached pre 2008 crisis levels and the number of NEET's is alarming. This can potentially throw many youngsters into poverty, in-work poverty and social exclusion.
European Policy responses
In recent years, programmes launched by the European Commission, such as Erasmus+ and the Youth Guarantee, have been aiming at bridging the gap between education and the world of work. While Erasmus+ promotes educational and research exchanges, as well as volunteering opportunities and capacity building, the Youth Guarantee focuses on the transition per se by ensuring that every youngster in Europe has access to employment, training, education or apprenticeships. Apprenticeships, as well as vocational and educational training, are important tools in fighting youth unemployment, given their practical nature and the direct link between labour market needs and skills.
However, these programmes can only reach their full potential with budgetary increases. Furthermore, it would also be advisable to strengthen the role and recognition of non-formal learning. Apprenticeships or VET schemes are fundamental to address the current skills mismatch. For that matter, the role of social partners as well as youth organisations in the design of these schemes should be strengthened, since they have the know-how and the insights into the real needs of youth groups.
Fighting against precariousness in atypical forms of work is fundamental to secure a just, inclusive and democratic society. Youth represents 10-15% of the population in Europe and it needs a socially protected future to be able to live to one's full potential and creativity, to fight social exclusion, and to ensure the continuation of the welfare system.
CESI policy recommendations
Youth policies should be relevant in all sectors of society, both at EU and national levels. They should be considered in educational, economic and structural policies, such as social policies, access to education, housing or healthcare. CESI Youth advocates the consideration of youth interests in all sectors and at all levels. For the future, this will be of relevance for digitalization and green policies.
In order to address youth and precarious work CESI Youth emphasizes the importance of: (1) ensuring access to social protection safety nets for young workers; (2) enforcing the equal treatment principle between standard and atypical work; (3) guaranteeing strong interest representation and access to information and training campaigns; (4) striving to establish more clear legislative frameworks for atypical work arrangements.
In terms of encouraging EU policy responses to youth precarious work and unemployment, CESI Youth believes that the involvement of stakeholders should be further encouraged. Parents, youth, educational and training institutions, trade unions and employers´ organisations, public administrations and the civil society should be more involved in contributing to the debates and the implementation of the Youth Guarantee, Erasmus+ or the Apprenticeships Scheme. This can be achieved through better communication channels, such as public consultations, webinars, or the exchange of best practices. In this sense, CESI Youth highlights the importance of local authorities for the implementation of these programs on the ground.
In general, CESI Youth believes that the empowerment of young people leads to a more democratic and developed society. Young workers who remain financially dependent hardly gain an active role in society. Financial independence leads to more responsibility, civic-mindedness and societal participation and activity. One way to achieve this, would be by introducing wage compensation, funded by the Youth Guarantee, to enable SME's (small and medium sized enterprises) to offer quality paid internships to youngsters. This also contributes to social inclusion, since youngsters from disadvantaged backgrounds are guaranteed equal opportunities.